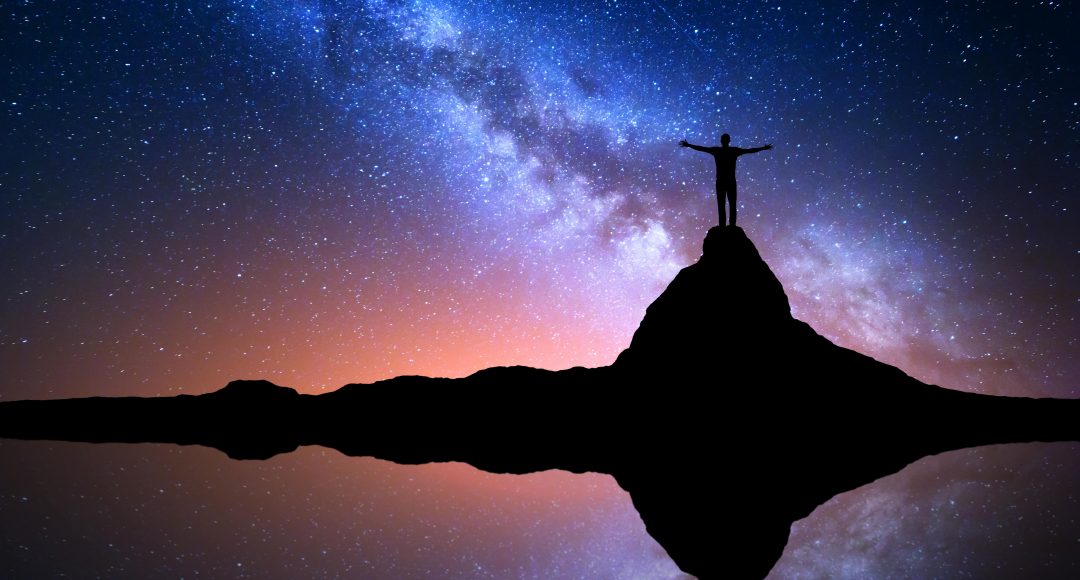 "The Lord reigns, let the earth rejoice" (Psalm 97:1a).
Psalm 97
E
ternal dominion, unlimited power, and immeasurable strength. Words are not adequate to describe God's omnipotent authority. NASA launched the Wilkinson Microwave Anisotropy Probe satellite in June 2001 and discovered, through never-before-seen universal photographic imaging, with state-of-the-art computer mathematical retro calculations, that at the inception of the cosmos, 100 billion galaxies were thrust more than 1 billion light years in a trillionth of a second.
And yet, while possessing such unfathomable power, God placed Himself in a manger as a tiny baby boy.
He touched a helpless leper's grotesquely marred face. He felt the touch of a hemorrhaging woman as a crowd of people pressed in on every side. He placed His fingertips on the eyes of a blind man. He clothed Himself in the meekness of a lamb to be sacrificed on a Roman cross.
Meekness: "power under control." Strength saturated by love. Authority under the submission of mercy. That's the true heart of the Shepherd of all mankind.
Psalm 97:2-3 – "Clouds and thick darkness surround Him; righteousness and justice are the foundation of His throne. Fire goes before Him and burns up His adversaries round about."
2 Corinthians 5:21 – "He made Him who knew no sin to be sin on our behalf, so that we might become the righteousness of God in Him."

The ultimate paradox: God's unmatched authority, power, and uncompromising righteousness in the heart of One who would succumb to incomprehensible torture and death to bear the burden of His own fury over sin in order to give that righteousness in response to a faithful plea of the most-lowly repentant sinner. Describe in your own words how He did it, why He did it, and your response to His grace clothed in meekness.

Psalm 97:4-6 – "His lightnings lit up the world; the earth saw and trembled. The mountains melt like wax at the presence of the Lord, at the presence of the Lord of the whole earth. The heavens declare His righteousness, and all the peoples have seen His glory."

Name three ways God displays His unlimited power.

Psalm 97:7-10 – "Let all those be ashamed who serve graven images, who boast themselves of idols; worship Him, all you gods. Zion heard this and was glad, and the daughters of Judah have rejoiced because of Your judgments, O Lord. For You are the Lord Most High over all the earth; You are exalted far above all gods. Hate evil, you who love the Lord, Who preserves the souls of His godly ones; He delivers them from the hand of the wicked."

What should your response be to His power enshrouded in meekness
How are you doing with that?

Psalm 97:11 – "Light is sown like seed for the righteous and gladness for the upright in heart."

When you think about God granting His righteousness to you as a Christ-follower, describe to Him in prayerful journaling the thoughts that enter your mind.
To Him who "sows the seeds of light" into your heart, continue your prayerful journal.
Psalm 97:12 – "Be glad in the Lord, you righteous ones, and give thanks to His holy name."

Continue to journal your thoughts as they are stimulated by this passage.

Matthew 5:5 – "Blessed are the gentle [meek], for they shall inherit the earth."

What is God asking of you in this passage?
How can you demonstrate meekness to those entrusted to you to shepherd?
John 13:15 – ​"For I gave you an example that you also should do as I did to you."
From today's scripture, how does ​THE​ Shepherd inspire ​you​ to shepherd ​your​ flock?

"He leads the humble in justice, and He teaches the humble His way"
(Psalm 25:9).
A​doration, ​C​onfession, ​T​hanksgiving, ​S​upplication