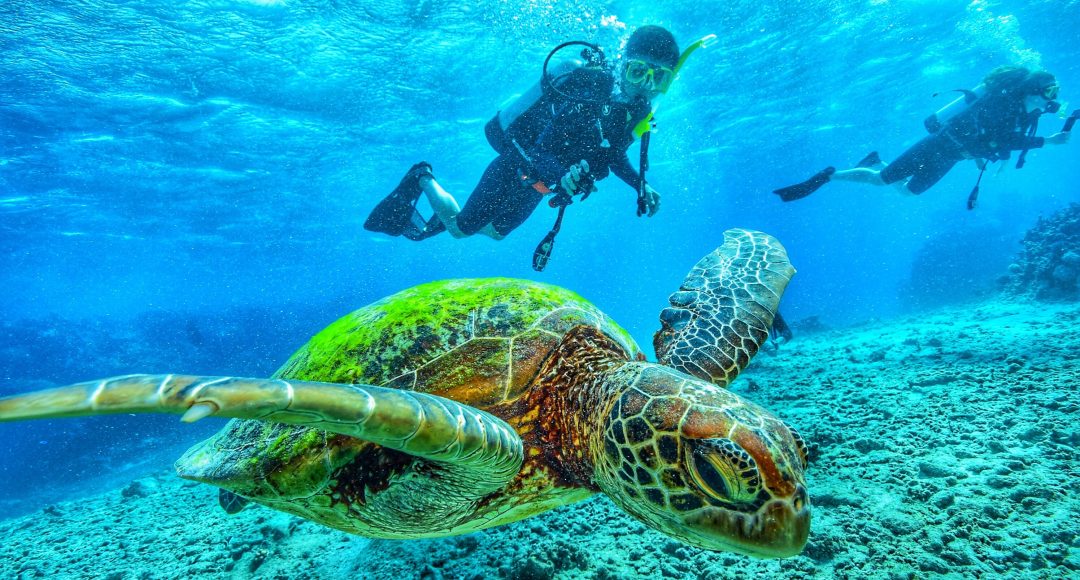 "The Lord says to my Lord: 'Sit at My right hand until I make Your enemies a footstool for Your feet'" (Psalm 110:1).
Psalm 110
F
lying 32,000 feet above the Pacific Ocean tonight on a five-and-a-half-hour hop to "The Garden Island" of the Pacific, Kauai, to take my grandkids scuba diving in the warm and picturesque Hawaiian waters fills this old grandpa with happiness and anticipation in indescribable proportions. Leading children in scuba diving experiences in the vast underwater aquarium of our life has long been one of my greatest thrills.
But then, to lead my grandkids spelunking with only a flashlight into a wilderness crystal cave, squeezing through tiny limestone passageways into scarcely seen rooms filled with treasure chests of trillions of tiny gypsum and calcite crystals, rivals the adventures under the sea in every conceivable manner.
Yes, guiding kids on river trips, fishing trips, hunting trips, flying adventures, and mission trips to experience the joy of amazement, of living, of laughing, of loving, and of giving is, to me, the ten-carat diamond in the sand of life.
But none of these extravagant guiding adventures compares to the greatest adventure of all, taking a student trip to "the Heart of the Shepherd."
David, king of Israel, in all his splendor, in all his glory, somehow knew in his divinely inspired thinking that up there, out there, over there, somewhere, was the Messiah, sitting at the right hand of God. And in his wonderful Psalms, he takes us there so we can join him in this, the greatest guiding experience of a lifetime–taking a student to "the Heart of the Shepherd."
Listen to David's prophetic words again and join him in this, the ultimate peak ascent of a lifetime: "The Lord says to my Lord: 'Sit at My right hand until I make Your enemies a footstool for Your feet'" (Psalm 110:1).
Isaiah 6:1-8 – "In the year of King Uzziah's death I saw the Lord sitting on a throne, lofty and exalted, with the train of His robe filling the temple. Seraphim stood above Him, each having six wings: with two he covered his face, and with two he covered his feet, and with two he flew. And one called out to another and said, 'Holy, Holy, Holy, is the Lord of hosts, the whole earth is full of His glory.' And the foundations of the thresholds trembled at the voice of him who called out, while the temple was filling with smoke. Then I said, 'Woe is me, for I am ruined! Because I am a man of unclean lips, and I live among a people of unclean lips; for my eyes have seen the King, the Lord of hosts.' Then one of the seraphim flew to me with a burning coal in his hand, which he had taken from the altar with tongs. He touched my mouth with it and said, 'Behold, this has touched your lips; and your iniquity is taken away and your sin is forgiven.' Then I heard the voice of the Lord, saying, 'Whom shall I send, and who will go for Us?' Then I said, 'Here am I. Send me!'"

"Show and Tell" is one of the first games of kindergarten. "Show and Tell" when it comes to showing someone God and telling him or her how to experience God is certainly the greatest game of life. Why does seeing the Lord demand that you rise to the call to spend a lifetime taking others on the journey?
2 Corinthians 12:1-4 – "Boasting is necessary, though it is not profitable; but I will go on to visions and revelations of the Lord. I know a man in Christ who fourteen years ago—whether in the body I do not know, or out of the body I do not know, God knows—such a man was caught up to the third heaven. And I know how such a man—whether in the body or apart from the body I do not know, God knows— was caught up into Paradise and heard inexpressible words, which a man is not permitted to speak."

Paul referred to his heavenly vision as the "surpassing greatness of the revelations" (v.7). Then, in response to the journey of amazement, he sacrificed himself again and again to take the message of liberation to the world. Does Paul's heroic, sacrificial calling inspire you to join him in the Great Commission? Why or why not?
Revelation 4:1 – "After these things I looked, and behold, a door standing open in heaven, and the first voice which I had heard, like the sound of a trumpet speaking with me, said, 'Come up here, and I will show you what must take place after these things.'"
Revelation 5:11-12 – "Then I looked, and I heard the voice of many angels around the throne and the living creatures and the elders; and the number of them was myriads of myriads, and thousands of thousands, saying with a loud voice, 'Worthy is the Lamb that was slain to receive power and riches and wisdom and might and honor and glory and blessing.'"

Describe what John is seeing in his visual ascent.
How do you describe your most-memorable and -inspiring personal glimpse of Jesus' glory?
Are you willing to unleash yourself and guide others to that place of splendor and majesty? Why or why not?
Exodus 34:29 – "It came about when Moses was coming down from Mount Sinai (and the two tablets of the testimony were in Moses' hand as he was coming down from the mountain), that Moses did not know that the skin of his face shone because of his speaking with Him."

Certainly, the experiences of David, Paul, John, Isaiah, and Moses were unique to their time and their role in presenting God's holy Word. But just as certainly, a man or woman who has a relationship with Jesus has to see Him in his or her own unique way. How does your face "shine" from seeing the Lord, and how does God want to use that shining light of your countenance to take the lost and the novice to "the holy mountain" of discipleship?
2 Timothy 4:1-2 – "I solemnly charge you in the presence of God and of Christ Jesus, who is to judge the living and the dead, and by His appearing and His kingdom: preach the word; be ready in season and out of season; reprove, rebuke, exhort, with great patience and instruction."

What has today's study done to change your perspective on your calling to the Great Commission to "go and make disciples"?

John 13:15 – ​"For I gave you an example that you also should do as I did to you."

From today's scripture, how does ​THE​ Shepherd inspire ​you​ to shepherd ​your​ flock?

"The Lord says to my Lord: 'Sit at My right hand until I make Your enemies a footstool for Your feet'" (Psalm 110:1).

A​doration, ​C​onfession, ​T​hanksgiving, ​S​upplication