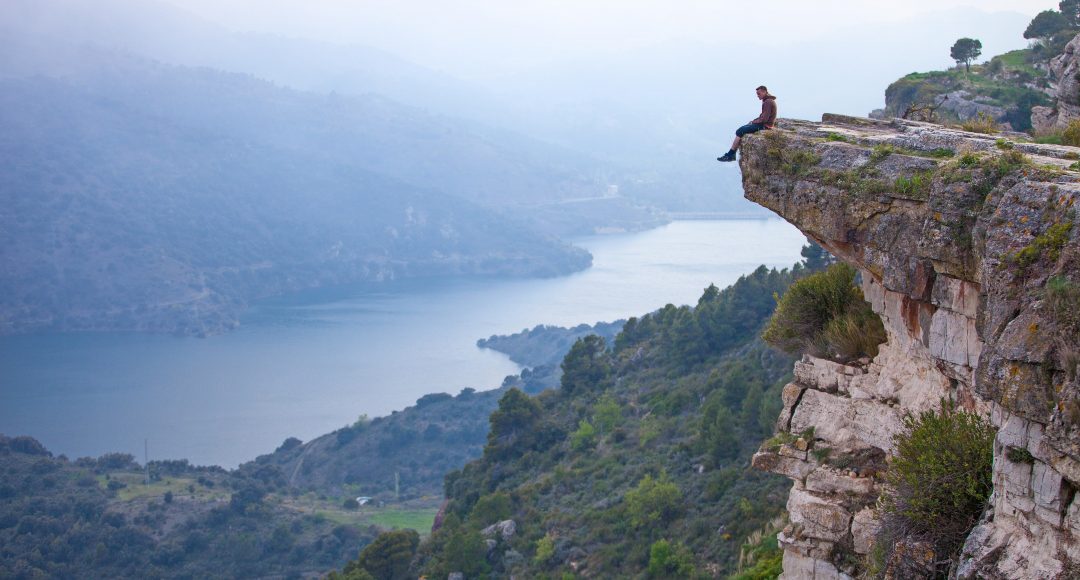 "For the enemy has persecuted my soul; he has crushed my life to the ground; he has made me dwell in dark places, like those who have long been dead. Therefore my spirit is overwhelmed within me; my heart is appalled within me" (Psalm 143:3-4).
Psalm 143
Brad Edgar is a dear friend who was engaged to the woman he thought he'd spend the rest of his life with. But I discovered in counseling them that her heart was in other places. The ensuing breakup was utterly painful for Brad. He literally fell apart emotionally. He lost his appetite, lost too much weight, and lost his mental rationale. His life was a wreck. In the middle of the painful wilderness, he went to the edge of a cliff to take his life.
But when he got there, he was so weak from his sufferings that he collapsed on the precipice. He literally passed out. And Jesus met him there. Together they walked away from the cliff, hand in hand, side by side. That summer I introduced him to another amazing young lady. She was and is to this day the woman of his dreams. They raised amazing children together. They do ministry together. They'll raise grandkids together. They'll be in love until the day they die.
What do you do when you get to the edge of the cliff?
When a friend tells you to "Run to Jesus," "Press into God," "Stand on the Rock of your faith" — all those are good advice, but how do you do it? What does it mean to "press into God" and "make Jesus your focus" when you're in lots of pain and God is all you've got?
In Psalm 143, David joins us in that valley and shows us how.
As I write tonight, I know firsthand the meaning and application of David's words. Early tomorrow morning, I go into the hospital for a tedious but critical surgery. The success or failure of this one has dire implications for my future quality of life. I can honestly say I have peace with God as I go in and allow the doctor to put anesthetic in my veins and "take me out" to try to save my foot from amputation.
One day you'll have a similar circumstance, if you haven't been there already. Take heed as you study David's inspiring words. They work. I've been there before. Tomorrow I'll go there again.
"I remember the days of old; I meditate on all Your doings; I muse on the work of Your hands. I stretch out my hands to You; my soul longs for You, as a parched land" (Psalm 143:5-6, emphasis added).
Read each word carefully, thoughtfully, and reflectively as you begin to absorb David's five habits for living faithfully in the pit of despair.
Remember gratefully God's goodness.
Meditate on His Word.
Muse (gaze thoughtfully).
Stretch out your hands and surrender.
Long for God deeply.

Remember
Deuteronomy 5:15 – "You shall remember that you were a slave in the land of Egypt, and the Lord your God brought you out of there by a mighty hand and by an outstretched arm; therefore the Lord your God commanded you to observe the sabbath day."

For the Jewish people, remembering all God had done for them gave them hope. That hope was effective in helping them overcome their times of despair. If you were going to make a list of all the favors, benefits, and freedoms God has granted you, which three events would be at the top of the list?
Meditate

Isaiah 26:3 – "The steadfast of mind You will keep in perfect peace, because he trusts in You."

Why does meditation on God's memorized Word bring peace and comfort?
Muse

Psalm 86:10 – "For You are great and do wondrous deeds; You alone are God."
Psalm 118:23 – "This is the Lord's doing; it is marvelous in our eyes."

Muse means inspiration:  a person who is the source of inspiration for a creative artist.
To muse on God means to stand in sheer awe, wonder, and amazement over who He is and all He has done. Why does that kind of mental activity help alleviate depression?
Stretch out
Psalm 28:2 – "Hear the voice of my supplications when I cry to You for help, when I lift up my hands toward Your holy sanctuary."
Psalm 63:1 – "O God, You are my God; I shall seek you earnestly; my soul thirsts for You, my flesh yearns for you, in a dry and weary land where there is no water."

When was the last time you were at the end of yourself and you stretched your arms upward fully and said, "God, I can't do this alone; I need You to save me; I need You to comfort me"?
Longing
Psalm 73:25 – "Whom have I in heaven but You? And besides You, I desire nothing on earth."
Isaiah 26:9 – "At night my soul longs for You, indeed, my spirit within me seeks You diligently; for when the earth experiences Your judgments the inhabitants of the world learn righteousness."

Describe your soul when it longs for God.
How does longing for God, remembering His goodness, musing in amazement, meditating on His Word, and stretching open hands to Him fight against and help overcome desperation?
John 13:15 – ​"For I gave you an example that you also should do as I did to you."
From today's scripture, how does THE Shepherd inspire you to shepherd your flock?
"The steadfast of mind You will keep in perfect peace, because he trusts in You" (Isaiah 26:3).
Adoration, Confession, Thanksgiving, Supplication