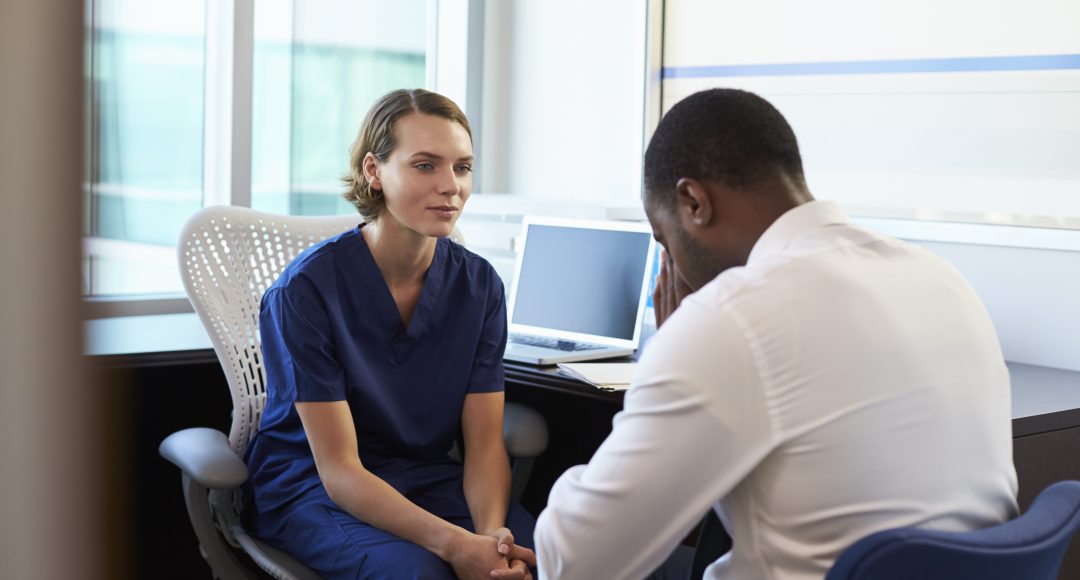 "The righteous cry, and The Lord hears and delivers them out of all their troubles.​ ​The Lord is near to the brokenhearted and saves those who are crushed in spirit" ​(​Psalm 34:17-18).
Psalm 34
W
hen I was diagnosed with leukemia in the summer of 2000. My oncologist told me I had very little chance of survival and only promised me nine months to go home and "get my house in order." If I did survive, I was told, "I would never be the same."
Tough news for a happily married man and father of four and countless days of happiness leading folks to Christ ahead. But God had a perfect plan. As Jeremiah 29:11 says, ​"For I know the plans that I have for you,' declares The Lord, 'plans for welfare and not for calamity to give you a future and a hope.'"
God has given miraculous wisdom to a team of macromolecular doctors at Washington State University. The wisdom to find the DNA anomaly in my genetic code and their ability to miraculously treat that microscopic DNA particle in every cell in my bone marrow with a non-toxic daily pill. Yes, it was the miracle drug. I blame a "lab rat" for the new drug. Six weeks later, my blood was normal​ ​and remains so today.
No, God doesn't heal everyone immediately, but He heals in ways we see and in ways we don't see every day. 
As I pray with hurting people, I see God healing emotional pain and spiritual pain almost daily. I watch God heal abuse, rape, hatred, abandonment, sudden loss of loved ones, addictions, self-hatred and a slough of other emotional diseases on a regular base; God is definitely a healing God. A good shepherd of a flock of sheep is continuously looking out for hurting sheep and ready to come to the rescue with a splint or a bandage. That's what good shepherds do.
1. Psalm 34:19 –​ "​Many are the afflictions of the righteous, but The Lord delivers him out of them all."
How has God healed you in profound ways in your times of physical, spiritual, and emotional needs?
___
2. 1 Peter 5:10 – "​After you have suffered for a little while, The God of all grace, who called you to His eternal glory in Christ, will Himself perfect, confirm, strengthen and establish you."
Describe God's heart for restoring his wounded sheep: "Eternal healing"
___
3. Psalm 40:1-3 – "​I waited patiently for The Lord; and He inclined to me and heard my cry. He brought me up out of the pit of destruction, out of the miry clay, and He set my feet upon a rock making my footsteps firm.​ ​He put a new song in my mouth, a song of praise to our God; many will see and fear and will trust in The Lord."
Describe the joy of God's healing touch as you have experienced it in your life:
___
4. 2 Corinthians 4:15 –​​ "F​or all things are for your sakes, so that the grace which is spreading to more and more people may cause the giving of thanks to abound to the glory of God."
What is our proper response for the way God is constantly healing us? How consistent are you at being thankful?
___
5. Ephesians 2:10 – "​For we are His workmanship, created in Christ Jesus for good works, which God prepared beforehand so that we would walk in them."
The Greek word for "workmanship" is "poiema." In a sense, you are God's poem. Just like life, poetry doesn't always rhyme; but that's because you're not to the end of the stanza. The rhyme is coming if you are patient and keep reading. Describe a time where your life didn't rhyme, and you wondered where God was. Then what happened when the rhyme came?
Why did God save "The Rhyme" for his perfect timing?
___
6. Psalm 103:3 – "​Who pardons all your iniquities, who heals all your diseases."
What is God's greatest healing of all?
 ​"For I gave you an example that you also should do as I did to you."From today's scripture, how does ​THE​ Shepherd inspire ​you​ to shepherd ​your​ flock? John 13:15​
"On the day I called, You answered me; You made me bold with strength in my soul" Psalm 138:3.
A​doration, ​C​onfession, ​T​hanksgiving, ​S​upplication