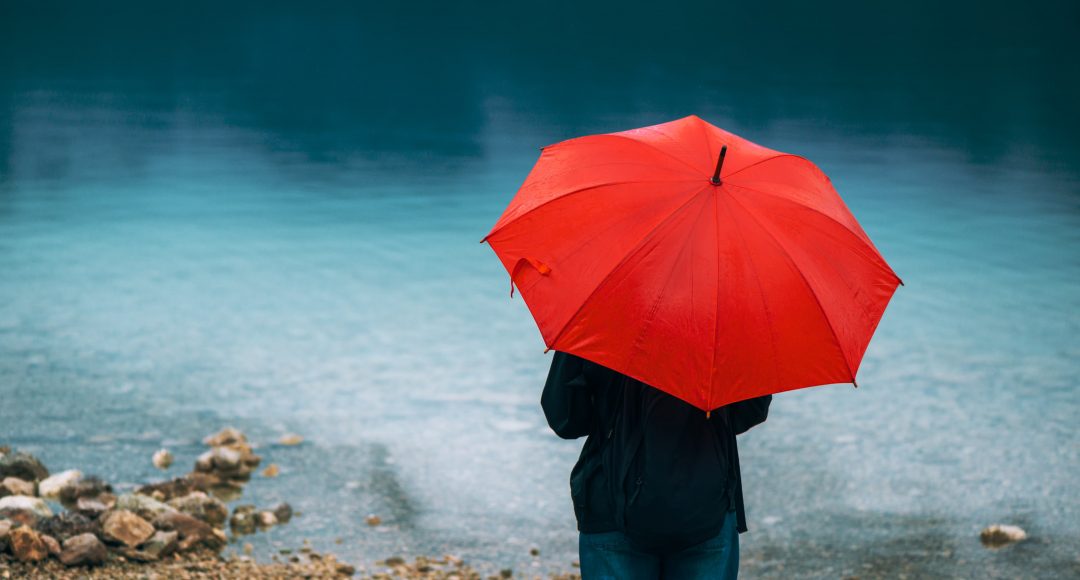 "When Israel went forth from Egypt, the house of Jacob from a people of strange language, Judah became His sanctuary, Israel, His dominion. The sea looked and fled; the Jordan turned back. The mountains skipped like rams, the hills, like lambs" (Psalm 114:1-4).
Psalm 114
Depression is a deep, thick, stormy, gray cloud that travels ominously over the emotional sky of a person's heart 24 hours a day, seven days a week. The cloud seems permanent and immoveable. It's reinforced with layers of sadness, worry, fear, and personal defeat.
I've been under the cloud twice–once as a young college football coach, and once as an older ministry leader. I cried during those dark days until it felt as if my tear ducts became barren and ran out of tears to shed.
With very few exceptions through decades of counseling and coaching others through the difficult journey, the good news is twofold. First, God delivers. Second, the cloud is not static. It's a moving target. Best of all, however, is the scriptural truth that looking back on the journey, God gives you 20/20 vision to see His constructive, purposeful hand every step of the way.
Deliverance from addictions of every class and genre is God's specialty. As He liberated His chosen people from bondage in Egypt, parting the Red Sea, providing food for their journey, giving the Ten Commandments and His presence in the tabernacle to guide their way, so God will deliver every willing heart from any form of enslavement. "What ails you, O sea, that you flee? O Jordan, that you turn back? O mountains, that you skip like rams? O hills, like lambs? Tremble, O earth, before the Lord, before the God of Jacob, Who turned the rock into a pool of water, the flint into a fountain of water" (Psalm 114:5-8).
Galatians 5:1 – "It was for freedom that Christ set us free; therefore keep standing firm and do not be subject again to a yoke of slavery."

How did Jesus set us free once and for all time? How can He keep us free on a daily basis?
Psalm 34:17 – "The righteous cry, and the Lord hears and delivers them out of all their troubles."
Psalm 50:15 – "Call upon Me in the day of trouble; I shall rescue you, and you will honor Me."

The Greek word for deliverance is soteria, which translates to "salvation, welfare, prosperity, preservation, and safety." Describe how God delivers you from your worst times of emotional bondage, sin, or addiction.
How can His liberating Spirit aid in your deliverance?
James 5:16 – "Therefore, confess your sins to one another, and pray for one another so that you may be healed. The effective prayer of a righteous man can accomplish much."

How can walking and praying with a caring Christian brother or sister in an accountability relationship make deliverance come more readily and succeed in the long term?
Colossians 1:13 – "For He rescued us from the domain of darkness, and transferred us to the kingdom of His beloved Son."

How does deliverance produce deep gratitude and praise? Describe the depth of your heart's gratitude to the One who has delivered and will deliver you.
Romans 7:18-20, 24-25a – "For I know that nothing good dwells in me, that is, in my flesh; for the willing is present in me, but the doing of the good is not. For the good that I want, I do not do, but I practice the very evil that I do not want. But if I am doing the very thing I do not want, I am no longer the one doing it, but sin which dwells in me. … Wretched man that I am! Who will set me free from the body of this death? Thanks be to God through Jesus Christ our Lord!"
Romans 8:1 – "Therefore there is now no condemnation for those who are in Christ Jesus."

How do you relate to Paul's famous words in this Romans 7-8 discourse?

John 13:15 – ​"For I gave you an example that you also should do as I did to you."

From today's scripture, how does ​THE​ Shepherd inspire ​you​ to shepherd ​your​ flock?

"The righteous cry, and the Lord hears and delivers them out of all their troubles" (Psalm 34:17).

A​doration, ​C​onfession, ​T​hanksgiving, ​S​upplication